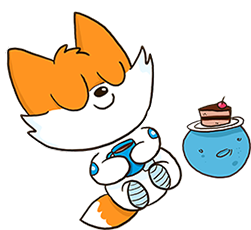 Do you want a customized artwork made by me? Wonderful, just write me an email to info@danielaschreiter.com.
No matter if you want a (book) illustration, mascot, comic, banner, offlinescreens or emotes for twitch, illustrations of your pen & paper characters, a T-shirt design or whatever else you can think of! I do private as well as commercial commissioned work, analog and digital.
Attention: There are only a few slots open every month, if you need a commissioned work for a specific date, you should reserve a slot in time!
Here is a little checklist:

Would you like to use the commissioned work as a private person or commercially?

Do you want a digital or analog commissioned work? Colored or black and white?

If analog, what size do you want (A6, A5, A4, etc. or something completely different) and which medium (copy markers/ink or watercolor)?

Do you have precise ideas for your commissioned work? Then write me everything I need to know :).
I look forward to your ideas!
This website uses cookies to help manage your interaction with the website. By continuing to browse the site you are agreeing to accept our use of cookies.
More Information about Privacy Policy
.